The Chequamegon Area Mountain Bike Association Board of Directors is comprised of volunteer directors, and is overseen by four officers: president, vice-president, secretary and treasurer.  Our directors are very engaged with the organization.  They actively participate with a committees as well as help generate funding for the organization.  They are riders, and they live the CAMBA lifestyle.
Want to get involved? SEE HOW
Directors
Joe Vadeboncoeur (President)
Joe has spent a lifetime riding mountain bike trails and working in the cycling industry.  Joe has lived in the state for more than 30 years and spent a lot of time in our area.  A long time visitor to CAMBA-land, he moved here full time in 2018.  He founded a consulting business based in Hayward, and consults with various outdoor industry clients from around the country.  Joe has managed billion dollar companies, developed products in the cycling industry, lead global teams and helped create strategic vision for many organizations.  He is stoked to live on the CAMBA trails and to help the organization prepare for an amazing future where mountain biking brings continued significant economic impact to the region.  "I spent 30 years selling someone a new bike, now I am excited to help many of those same people have an amazing experience with those bikes."
Ben Welnak (Vice President, Trails Committee)

Ben is originally from Southeastern Wisconsin. After graduating college at UW La Crosse, he lived in several Midwestern cities, Denver, and Western North Dakota before relocating to Hayward in 2017, providing a lot of opportunity to experience mountain biking throughout the country.  Ben started mountain biking in 2006 after five years of other endurance sports including running and triathlons of various distances. In 2012, he created Mountain Bike Radio and has been dedicated to mountain biking since. He has a lot of experience racing all distances, including 24 hour solos, 12 hour solos, 100 miles, 50 milers, XC distance, fatbikes, gravel, and everything in between.  He's married to wife, Amy, with two young children – Claeson and Paige. They are all very supportive and hear about bikes way more than any normal family. Ben hopes that his passion for mountain biking and the outdoors drives his commitment to creating, improving, and maintaining opportunities in the outside world.
Laurie Woodbury (Treasurer, Manages CAMBA Women's events)
Laurie started mountain biking in 1996 after many years racing in triathlons. An endurance rider, she quickly caught the multi-day stage racing bug. Laurie has 23 mountain bike stage races under her belt in the U.S., Canada, South Africa, Costa Rica, and Morocco. A fat biker since 2006, Laurie is the first female finisher of the Arrowhead Ultra 135 fat bike race. She is a BICP Level 1 certified instructor and has coached at several area women's mountain bike weekends. Laurie has ridden the CAMBA trails for years, and has many hours of trail maintenance under her belt as well. Retired from a career in risk management and business continuity planning, Laurie is excited to give back to CAMBA and be part of its future.
Suzann Mouw (Secretary, Marketing Committee Chair)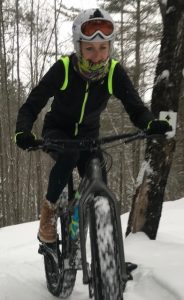 Suzann has enjoyed CAMBA-land since 2004 when she and her husband built a second home located trailside in Seeley. Originally based in the Twin Cities, her professional background includes 20+ years of Marketing and Management in strategic planning, new product/programs and branding. She and her husband moved here full-time in 2016. Passion for the off-road cycling community led to becoming co-owner in Roam Adventure Basecamp located trailside in Seeley. In addition to mountain biking, Suzann's off-road interests expanded to include gravel riding and bike-packing.
Suzann is extremely enthusiastic about the unlimited off-road riding opportunities in the Chequamegon National Forest and looks forward to further developing CAMBA as a leader in elevating the off-road experience for local and visiting cyclists.
Luke Bierl (Director)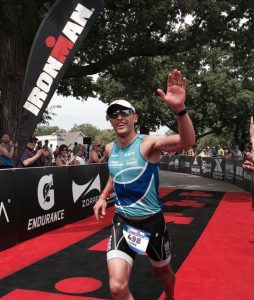 Luke has spent most of his adult life pursuing an active and healthy lifestyle through his work as a healthcare professional and endurance athlete. Luke began his professional career as a pharmacist and over time has taken on leadership responsibilities as the CEO of Hayward Area Memorial Hospital and Water's Edge. Luke understands that healthcare does not begin with a visit to a healthcare facility but rather begins with a lifestyle that keeps you out of healthcare facilities. The CAMBA Gateway Trail system is a great example of this concept coming to life. Luke has been a competitive Ironman triathlete, qualifying and competing in the 2018 Ironman World Championship held in Kona, avid Birkie skier, and just recently has fallen in love with mountain biking since taking residence in his trailside refuge.
Tim Louis (Director)
Tim Louis was born and raised in Phoenix Arizona but when asked where he grew up, he answers Cable, Wisconsin. Tim's family has had a place in Cable for a couple generations and the Chequamegon National Forest holds a special place in his heart. He enjoys golf, water skiing, sailing, fishing, and all types of cycling. He has competed in many races in the area including the Fat Tire 40, Birkie, Borah Epic, Firehouse 50, Fat Bike Birkie, Hayward Triathlon, and Paint Ball Biathlon.
Tim is an owner/director of PIVOT Cycles. He spends many hours during the summer months on the CAMBA trails usually on a PIVOT Mach 429SL. Tim is a proponent for conserving lands for the people and is proud to serve on the CAMBA Board.
Thom Malnourie (Director)
I am the co-owner, with my wife, of Malnourie Gymrage, located in the Northwoods Beach Township in Sawyer County.  We are dedicated to the silent sports community, and our most recent contribution isthe GymRage Outdoor Fitness Park located at the OO Trailhead.  I have been an avid mountain biker since moving to the Hayward area since 1996 and have added trail running to further my enjoyment of our pristine trails.  My biggest contribution to the CAMBA Board is being a community member of Hayward, which also entails Lac Courte Oreilles.  For the past two years our gym has fielded running teams made up of ordinary members of the LCO community for the Birkie Trail Festival.  From this experience, we have expanded into leading group mountain bike rides as well fat biking in the winter months. Helping community members learn to enjoy the trails has led to some of our gym members becoming regular cyclists.
I see the presence of CAMBA as community building – bringing people from all aspects of life and fitness levels as avid supporters and participants of life on the CAMBA Trail.  From our humble running groups I have witnessed this concept first hand and the experience has been joyous.  I am here to help further the mission of CAMBA.
Jenny Swift (Director, Events Committee)
I was born and raised in Hudson, Wisconsin.  When I was younger, our family vacations were spent at different resorts and lakes in the Hayward area.  My parents bought a cabin on Round Lake in 2007.   I met my husband in 2010 when I walked into his bike shop interested in purchasing a road bike.  I've been mountain biking since 1999.  My father owned a bike shop in Stillwater and in Hudson that had a team club.  I would join group rides, which lead  to racing in the Minnesota off-road race series in 2000.  Within the next few years I did my first two Chequamegon Fat Tire races.  In recent years, I have raced in Chequamegon 40 races, Mt. Borah Epic races and Pre-Fat races.  My favorite type of riding or racing is definitely single track!
Five years ago, I left my career in the airlines to stay at home with our daughter, Olivia.  For three years I was a coach for the Birkie trail kids program.  I just started my fifth year as a coach for the Hayward Composite Mountain Bike Team.  We currently have 40 kids on our team which has doubled from last year!  #more kids on bikes.
Through these experiences and as a member of the Hayward community, I feel that I could help educate the community more about who CAMBA is and what direction it is headed.
John Thiel (Director)
John is co-owner of Howl Adventure Center in Bayfield. He and his wife and business partner, Mary started their outdoor business with a dog sledding tours, sailing charters on Lake Superior and manufacturing Wolfsong Wear clothing. They fell in love with mountain biking when CAMBA built the Ashwabay trail system. A few years later they built their new store with its own single track trail on they property for demos and a full service bike shop. John is also on the board of the non-profit Mt. Ashwabay, ski hill and Nordic center in Bayfield. He is dedicated to supporting outdoor activities for a strong and healthy community.
Rhonda Tworek (Director, Membership Director)
Ron Bergin (Executive Director)