Friday, July 16 – Sunday, July 18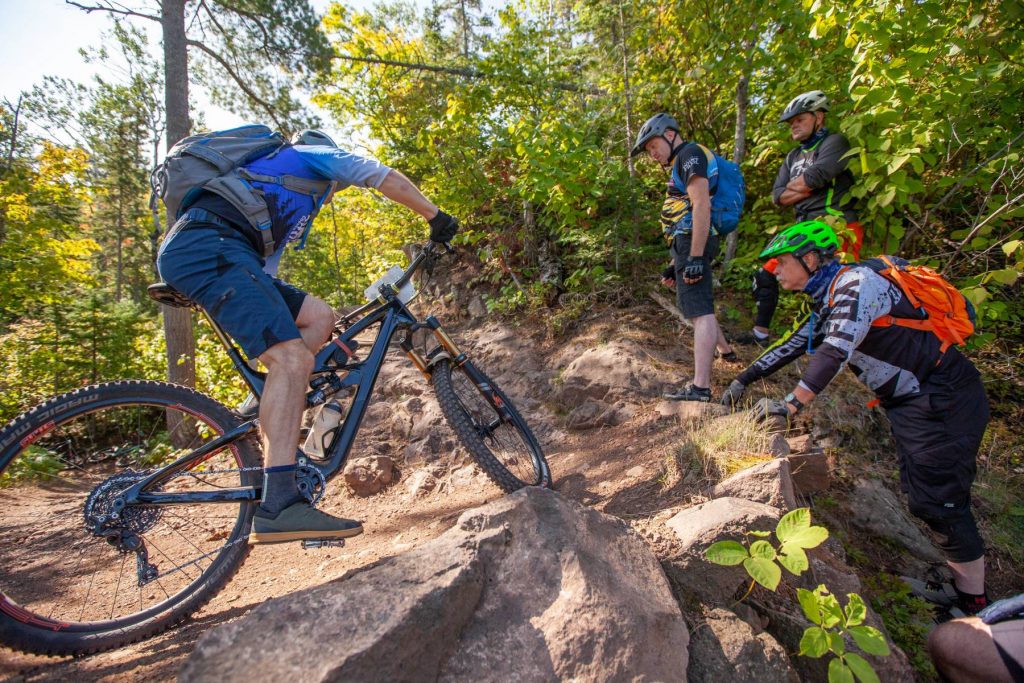 Join us for CAMBA's first Men's Mountain Bike weekend clinic! This clinic is open to guys – whether you are an old fart, a young buck, or somewhere in between. Join the rest of us as we spend a weekend improving your riding skills. Anyone looking to significantly improve their riding skills and enjoying 2.5 days of learning from the best coaches in the area will fit in. Come learn, improve, AND enjoy the amazing CAMBA trails. All skill levels are welcome!
The clinic begins the afternoon of July 16 and finishes the afternoon of July 18. Each day will include a combination of skills, trail riding to reinforce those skills, and some free time with your coaches for additional skills. You'll be in a group of 7-9 participants, with a coach and assistant coach. Friday dinner, Saturday breakfast, lunch, and dinner, and Sunday snacks are included in your registration.
See the schedule below: Note that all participants will be notified if there are any changes. Email Laurie Woodbury with any questions.
Location: Hatchery Creek Trailhead,
Friday, July 16, 2021
4:00 pm – Hatchery Creek parking lot. Check-in, meet fellow participants, get group assignments. Possibly go for an easy group ride.
6:30 pm – Dinner served, (included in your registration), followed by special group topic sessions (TBD)
Saturday, July 17
8:30 am – Location TBD. Coffee and breakfast treats provided
9:00 am – 12:00 pm – Get with your group! We'll rotate through stations on the skills course, where you'll learn about basic body position, saddle height, how to comfortably go over rocks and logs, negotiate curves, anticipate the trail ahead, ride a pump track and berm course, and more!
Noon – Lunch provided and group photos.
1:00 pm – 4:00 pm – Continue to work on your skills, and put them to work in small group rides on the trails at the park. Take part in on-the-trail sessions according to ability.
5:30 pm – 6:30 pm- Dinner served (included in your registration).
7:00 pm – Sign up for Sunday's special group sessions; optional social hangout and ride talk
Sunday, July 18, 2021:
9:00 am – 12:00 pm – Meet at your "Choose your Own" location and ride, session, and have fun! Breakfast on your own. Snacks provided for your enjoyment on the trail.
Registration: $245
Lodging is not included with the cost of registration; we'll give you more detail on lodging options in the near future.
Come on and join us in this first-ever CAMBA Men's Clinic and ride away with a bunch of new riding skills!
Lodging is not included in your registration fee.  We've worked with the Lenroot Lodge, in beautiful Seeley, Wisconsin for a clinic special rate.  Call the Lenroot Lodge at 715-634-7007 to book your room; if there is no answer at that number, call 715-634-5660 (Sawmill Saloon, right next door) to reserve your room.  Be sure to mention that you are with the CAMBA Clinic! 
Register and get your tickets below via Eventbrite