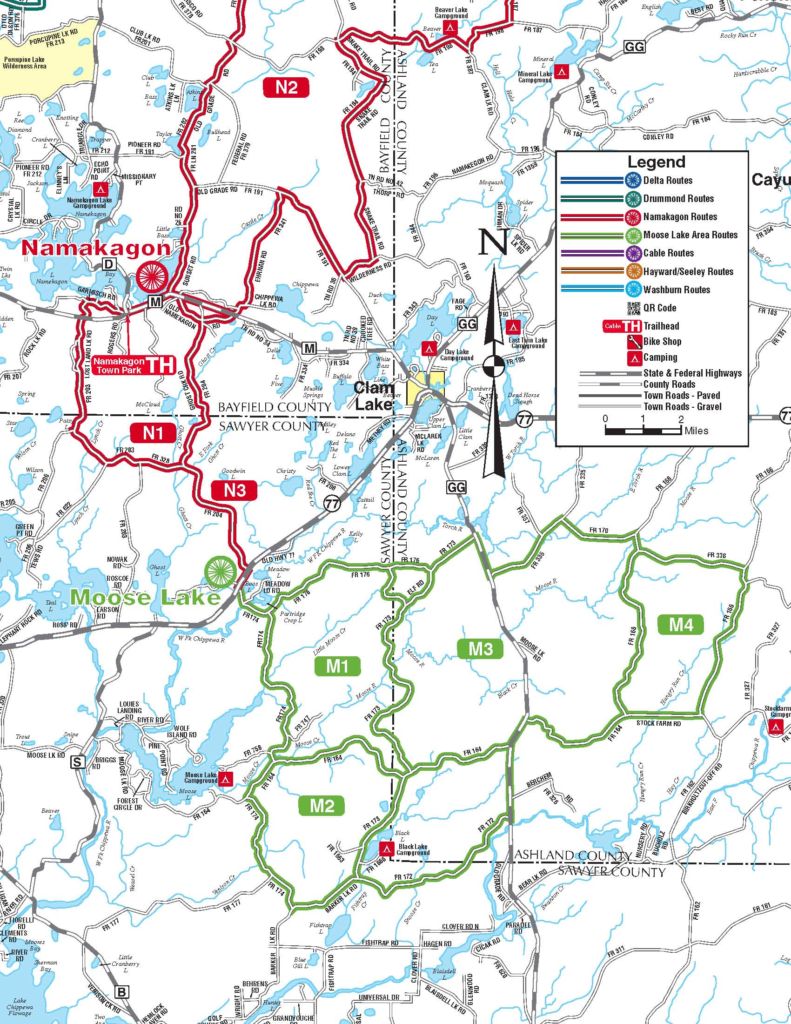 Download Moose Lake Area Gravel Routes
ROUTE DESCRIPTIONS
Starting Point: Intersection of Hwy 77 East and FR 174 between Hayward and Clam Lake. There is no trailhead, place of business or other facility.
M1 – 14 miles with 377 feet of climbing. This is an easy "lollipop" loop and is primarily gravel. You will enjoy an amazing view from a wooden bridge as you cross the West Fork of the Chippewa River.
M2 – 25 miles with 754 feet of climbing. Ride deep into the Chequamegon-Nicolet National Forest on this primarily easy gravel route and cross several rivers and three wooden bridges. There are two campgrounds in the area – Black Lake and Moose Lake. Both are about a mile off the main route. There are no services within this route so be prepared.
M3 – 30 miles with 935 feet of climbing. This easy primarily gravel route crosses several rivers and passes near the Black Lake and Moose Lake Campgrounds and a former CCC Camp along Forest Road Look for the two chimneys that are just off the road. This is all that remains of the former camp. There are no services along this route.
M4 – 48 miles with 1,007 feet of climbing. This route is relatively flat and mostly easy gravel with small sections of quiet blacktop. You will cross several rivers on wooden bridges and ride near the Moose Lake and Black Lake Campgrounds as well the former CCC Camp. This route is very remote but you will pass near Clam Lake towards the end of the ride (off Hwy GG).
On all Moose Lake Area routes, keep an eye out for elk. This is prime elk territory – there is a good chance you will see one.
If you're looking for a respite and a tasty gelato or other snack, consider swinging by the Farmstead Creamery off FR 164, just a short ride or drive from the starting point of all routes.