$30K Match Anniversary Drive
We have received $22.9K of our $30K Match Drive! Help take us over the finish line!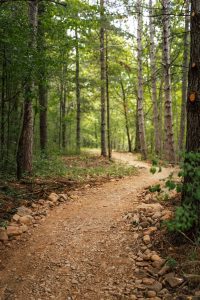 We need you to make all of this happen. Help ensure all riders find their own path to bliss.
CAMBA is building trails now and building plans for our future. Trails are being built now and a Master Plan is in process to guide our future trails. Watch for user surveys this summer and give us your input for the future.
Our first $30K in donations will be matched by a generous donor to give you more mileage for your giving.
Join the CAMBA community in making an important difference in reaching our goal for the trails you love. Especially now during our 30th anniversary. It's an incomparable way to get more distance out of your dollars. And an exceptional time to become a part of CAMBA's long legacy.
Our trails don't get older. They get better.
Here are details on projects underway.
The north Makwa Trail will be revitalized to return to its original intermediate level, $35-40K
New flow trail is being added to Patsy Lake to reroute around trouble erosion areas, $25-30K
The Hospital Trailhead will be moved next to Water's Edge to offer more trail accessibility with better parking, $4K
A new, intermediate connection trail between Dirt Candy and Mt. Telemark will bolster system access, $35-40K
The Flow Mama Trail will be touched up, $5-7K
The Esker Trail will be realigned for improved trail and easier winter grooming and maintenance, $20-25K
Other rehab and brushing, $15K
A new, beginner level trail at the Ski Hill Road Trailhead will invite novice riders into the CAMBA network, $20-25K
The Stick will become one way with an added new climbing section, $25-30K
A new jump line at Ashwabay for those who want to test their limits provide some new downhill excitement, $6-8K
We want to be prudent with spending your donations by keeping operating costs as low as possible.
Our programs include our trail development, membership, merchandise, races, & clinics. Program costs are 76% of our budget while operating costs make up 24% of our budgeted expenses. We feel good about our focus on the trails and community!
When you donate, you can choose where your donations are used within the organization. Our 30th Anniversary Campaign Donations will be used for the Trails. No matter where you donate, we sincerely thank your generosity.
Here are Other Ways to Donate
Leave A Legacy – Estate Planning
In 1993, CAMBA began building a network of recreational trails in the Hayward, Seeley, Cable and Namakagon areas. Since then we have expanded our efforts to the south shore of Lake Superior creating singletrack trails at Mt. Ashwabay near Washburn and Bayfield, creating over 130 miles of singletrack trails. In addition, we have also mapped and marked over 100 miles of off-road bike routes that utilize two-track roads and other forest paths. Plus, we have identified and mapped hundreds of miles of gravel routes throughout the region. And in the winter, CAMBA maintains approximately 70 miles of snow bike trails, More than 35,000 silent sports enthusiasts enjoy our trail network annually.
CAMBA has built one of the best singletrack networks in the nation. With your help, our trails will be even MORE FUN in the future. To maintain the system, we need your help.
Please consider including CAMBA in your estate plan. Funding from estate plans will aid CAMBA in establishing and maintaining a reserve fund to insure the long term stability of the legacy of CAMBA trails.
If you are interested in leaving a legacy, contact us at executivedirector@cambatrails.org to learn more about funding an endowment to keep the trails alive!
Donor Advised Funds
If you have a Donor Advised Fund, CAMBA would welcome your support through a donation. Search for either CAMBA or Chequamegon Area Mountain Bike Association. You may also find us using our Tax ID Number, which is 39-1743206.
Stock Donations
A donation of this nature is tax deductible at the appreciated value. Email executivedirector@cambatrails.org for more information on how to transfer stock to our account.
Employer Matching Contributions
Many businesses will match employees' donations made to qualified tax-exempt organizations like CAMBA.  Check with your employer's Human Resources, Corporate Giving, or other appropriate department to see if this is an option.
Family Foundations
If your family has a philanthropic foundation, CAMBA welcomes and encourages your support.
Donate via PayPal
Donate via your PayPal account.
CAMBA is a 501(c)3 tax-exempt organization, Tax ID Number 39-1743206.  Your donation is fully tax deductible to the extent allowed by law.
We greatly appreciate your financial support. Thank you!