Current Projects that need Funding
CAMBA has found its TRUCK
CAMBA has found a truck for its summer crew. We are still looking for donations to fund the expense. Please show your appreciation for the crew by donating toward the truck purchase.
A Trail Reborn Hatchery Creek Phase 3
A trail reborn! The Hatchery Creek Trail is one of the oldest trails in the CAMBA network and was previously all hand built, as many trails were in its time. As the trail enters its 2nd decade of life, the bumps became bumpier and the rocks rockier. Where is the flow you say? As the sport of mountain biking has grown and trail building has evolved, there has been a shift to build trails that are more inclusive for all ages and levels that like to get their smiles on two wheels. Hatchery Creek is part of this evolution in tmountain biking and is currently experiencing a rebirth that will provide an improved riding experience for all ages. During 2020 and 2021, two phases were completed and improved over 4 miles of trail to bring back the flow. in 2022, Phase 3 will rebuild two more miles of trail to add on to a stacked loop system, which will add a progression of difficulty from two separate trail heads, Hatchery Creek and Mosquito Brook. Families will be able to ride from the trail head together and as the trail progresses, so will the difficulty yes the trail provides a loop system back to the main trail heads. Some of the original "old school" feel of the trail will be preserved in the middle of the system, which will provide that extra challenge for those riders seeking it. The final portion of this project, Phase 3, begins in 2022 and completes a major milestone – nine miles total, comprised of several stacked loops, with increasing progression. Phase 3 is estimated to cost approximately $15,000. Your contribution will help this trail be reborn!
In August of 2021, CAMBA announced the establishment of The Ron Bergin Trail Fund in honor of Ron Bergin, a founding member of CAMBA and its Executive Director for 26 years. This fundraising initiative with a matching goal was a restricted fund for trail work, including new trails, maintenance, realignment and modernization. Although our goal has been met, the fund lives on as the CAMBA Trail Fund and continues to fund our trails. We are happy to accept one time donations or a pledge for a donation to be applied toward the CAMBA Trail Fund.
Ron's vision and leadership have propelled the area to one of the premier off-road riding areas in the Upper Midwest, and the nation. In the 26 years that Ron has been the Executive Director at CAMBA, the organization has:
• built over 130 miles of singletrack
• mapped over 250 miles of gravel routes
• created one of the nation's top winter fat biking experiences with 70 miles of trail
• organized more than 65 events on the trails
• helped organize another 40+ events run by others on the CAMBA trails
• enjoyed literally thousands upon thousands of hours of volunteer efforts
• increased economic impact to $7.8 million annually in Bayfield and Sawyer Counties
Ron himself has spent at least 25,000 hours over the past decades doing everything he can to promote, build and maintain the CAMBA trail network. "My involvement with CAMBA has truly been a labor of love", noted Ron recently. Whether he is carrying out administrative duties, flagging a trail, running a chainsaw, swinging a trail tool, dodging aggressive insects or defending his dog from a rogue bear (ask him about that story sometime), Ron has always been on the case to make the CAMBA trails what they are.
All of us who love the trails are eternally grateful and owe a huge debt of gratitude for everything Ron has done to propel off-road cycling in northern Wisconsin. Our trail network and organization would not be the same without Ron.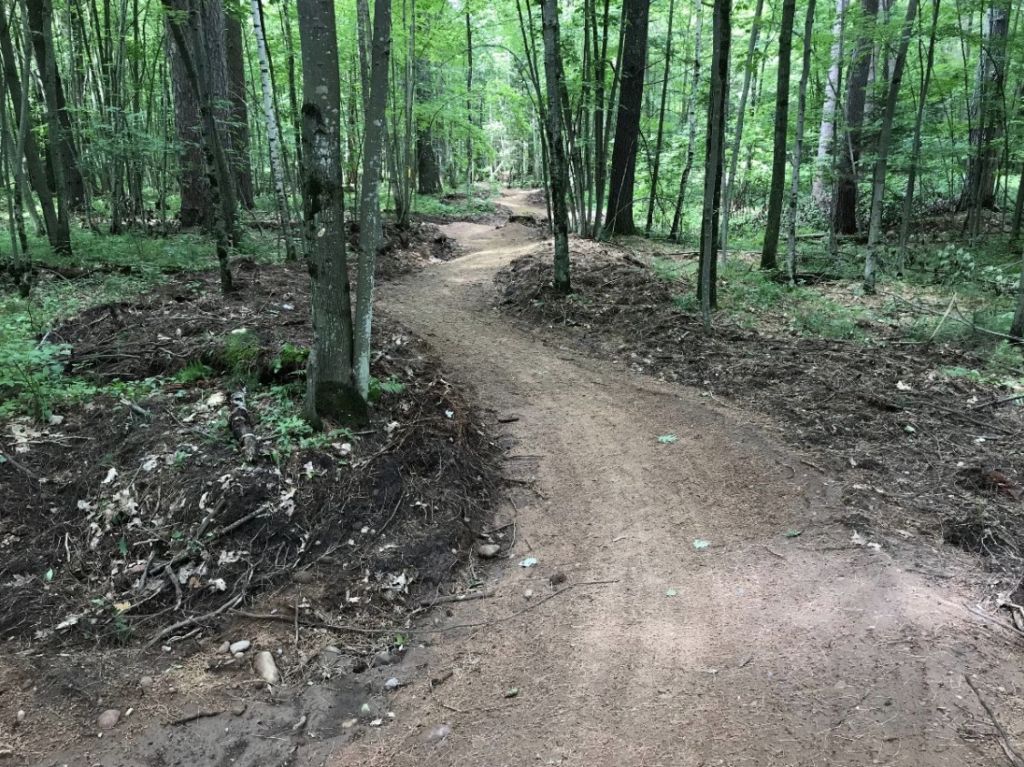 How Your Donations Will Be Used
A Legacy of Trail Advocacy and Community Investment

In 1993, CAMBA began building a network of recreational trails in the Hayward, Seeley, Cable and Namakagon areas. Since then we have expanded our efforts to the south shore of Lake Superior creating new singletrack trails at Mt. Ashwabay near Washburn and Bayfield, creating over 130 miles of singletrack trails. In addition, we have also mapped and marked over 100 miles of off-road bike routes that utilize two-track roads and other forest paths. Plus, we have identified and mapped hundreds of miles of gravel routes throughout the region. And in the winter, CAMBA maintains approximately 70 miles of snow bike trails, More than 35,000 silent sports enthusiasts enjoy our trail network annually.
CAMBA has built one of the best singletrack networks in the nation. With your help, our trails will be even MORE FUN in the future.
When you donate, you can choose where your donations are used within the organization. THE HATCHERY CREEK PHASE 3 FUND will be used to complete renovation of the stacked loops at Hatchery Creek Trailhead and Mosquito Brook Trailheads. THE RON BERGIN TRAIL FUND will serve to maintain and update our trails or choose to focus on the ASHWABAY TRAILS. If you donate IN MEMORY OF JOE TIMMERMAN, funds will be used to build our emergency and wayfinding systems, or you can donate to SUPPORT THE WINTER TRAILS. And we always welcome donations to the unrestricted GENERAL FUND and we will use your donation where it is needed most. No matter where you donate, we sincerely thank your generosity.
Here are Other Ways to Donate
Donate via PayPal
Donate via your PayPal account.
CAMBA is a 501(c)3 tax-exempt organization.  Your donation is fully tax deductible.
We greatly appreciate your financial support. Thank you!