Daytime high temperatures are forecast to near 60 degrees tomorrow in CAMBA Country, before they taper down to a more normal upper 30s this weekend. We also have a 70% chance of rain in Wednesday's forecast. The combination of warm weather and rain does not bode well for our groomed winter trail system. Seeley Dave and Cowboy will have another trail conditions report on Thursday or Friday to let everyone know how our trails fair after the rain and unseasonably warm temperatures.
The grass is already showing in open spots on some groomed trails, but the good news is nights have been below freezing, which is saving our base. Nights below zero and morning temperatures in the 30s also make for pretty ideal winter riding conditions. The trails are compacted and frozen, but the air is warm enough for you to dress lightly. It is kind of like spring skiing out west.
For those reasons, our CAMBA head groomer recommends people ride the groomed trails in the morning, and avoid them in the afternoon when things get very soft. Lately, I've been getting a short morning ride in on the Seeley Winter Trails near my house and hitting the gravel forest roads if I go out in the afternoon. The forest roads are mostly gravel and partially covered with slushy snow and ice, so I am running studded tires even on the gravel.
Only a week ago the forest roads were mostly frozen snow and ice, so my 29er with Kava Studded tires was my bike of choice. The recent warming has turned the roads to soft, wet gravel with slush and patches of snow or ice in the shaded, north-facing areas. So I have switched back to my fat bike with studded tires. That makes it easy to mix it up late mornings with the Big Fat Loop, which is a mix of groomed trails and fire roads.
Because the roads are so wet and muddy, I have been riding with clip-on fenders on both my 29er and fat bike. My carbon Salsa Mukluk fat bike has the Planet Bike Big Buck fender system on it. That includes a rear fender that mounts to the seat post and a front mud fender that mounts below the downtube since the carbon fork does not have a hole under the fork crown steerer tube. The Big Buck fenders are quick and easy to swap to another bike, so when I or my wife are riding the steel Schlick Northpaw, we use the full front fender that also came with the Big Buck kit.
With fat tires, your pants and back are still gonna get a little dirty from spray, but the fender stops the vast majority of it, so my butt does not get soaked. If you are planning to ride to any of our trails, you might want to invest in some fenders, or expect to have a wet seat by the end of your ride.
With the first day of spring less than two weeks away, the trails remain in great shape in the morning, all things considered. Most groomed winter trails in southern Wisconsin are probably closed right now, and the muddy mountain bike trails won't open for some time yet. With so many beautiful, low-traffic gravel roads in CAMBA Country, you should definitely try to make it up here soon to get some late-winter/early-spring riding in.
Riding the gravel forest roads and fire lanes is a good opportunity to stop and hike into the forest a bit to look at landmarks along the way. If you know where to look, you can find remnants of old CCC camps, frozen waterfalls, and even former ski jumps.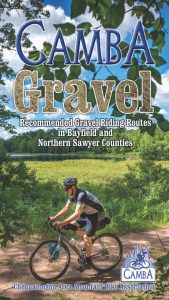 If you are unfamiliar with the gravel routes in the Chequamegon area, CAMBA has created some handy maps of suggested gravel routes. You can find more information about those fun routes onour website gravel page here. You can download a pdf of the maps, read descriptions of the routes, and even grab .gpx tracks you can upload to your device to help you navigate. If you would like to purchase the CAMBA gravel map, click on the image to the left.
While we still have great morning riding on our groomed winter trails, it is very late in the season. We could get another dump of snow to extend it, but it is inevitable that we will soon announce that our winter fat bike trails are closed. It is also very likely that our mountain bike trails will remain closed in the early spring until the forest dries a bit. During that shoulder season, we are blessed to have these amazing gravel roads to ride.
So even if you are a hard-core fat biker or mountain biker, you owe it to yourself to give our CAMBA gravel a taste.