County approves use of Class 1 E-bikes on forest trails;  |  By Terrell Boettcher; Sawyer County Record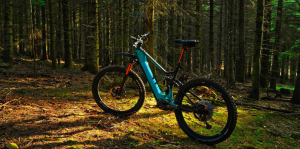 At the request of the Chequamegon Area Mountain Bike Association (CAMBA), the Sawyer County Land, Water and Forest Resources Committee voted recently to allow the use of Class 1 E-bikes on mountain bike trails in the county forest for a one-year trial.
CAMBA representative Ron Bergin told the committee that Class 1 E-bikes look and feel like traditional bicycles, but include an electric motor and battery (750 watts, one horsepower) for an extra boost. The motor kicks in when the cyclist is pedaling and shuts off when the bike reaches 20 mph.
"While the electric motor that assists the rider has the potential to create more torque, the acceleration of an e-bike is not likely to spin the rear tire and cause soil displacement," Bergin said. "On an e-bike you can't spin the back tire; it engages smoothly to go up a hill.
"E-bike users may also be able to travel further on trails. It is CAMBA's position that these impacts, while important to consider over time, do not present a threat to the sustainability of the trails.
"It should also be noted that Class 1 e-bike use is already prevalent on mountain bike trails, regardless of current restrictions," Bergin added. These bikes have tires at least two inches wide.
Bergin added that E-bike sales grown rapidly. They are used for utility, hunting, special events, persons with physical handicaps, and trail maintenance;. They make it easier to climb hills.
Bergin said that throughout Wisconsin, Class 1 e-bikes are allowed on paved roads and pathways, but not necessarily allowed on natural surface trails designated for non-motorized use. The state regulation leaves it up to land managers to designate use of e-bikes on these trails.
Bergin said the Bayfield County Board has approved the use of Class 1 E-bikes on their county forest trails. Also, CAMBA has approached the Chequamegon-Nicolet National Forest about permitting these bikes on the national forest single-track trails.
Bergin added that "We do not want to see Class 2 or 3 bikes on the trails," as they cross the line into motorized bikes and would create safety hazards on the trails.
County forest administrator Greg Peterson said that "A lot of this is going to be education rather than enforcement. I don't have a problem with this description; don't think there will be an impact."
"Through its website and social media network as well as trailhead signage, CAMBA will encourage all riders to be considerate of e-bike users on the CAMBA trails and promote safe riding practices," Bergin said. "CAMBA will post appropriate signage at all designated mountain bike trailheads indicating the permitted use of e-bikes bikes on those trails and encouraging safe riding practices."
E-Bikes on CAMBA Trails
The use of Class 1 pedal assist e-bikes is permitted on many CAMBA trails. Authorization for e-bike use on the remaining CAMBA trails is pending.
This pertains to Class 1, pedal assist e-bikes only.  Class 2 and Class 3 e-bikes are not permitted on the CAMBA trails. Class 1 pedal assist e-bike use is permitted on the following CAMBA trails:
Hayward Cluster: Hospital Trail, Hatchery Creek Trail, Makwa
Seeley Cluster: Makwa, Seeley Pass, FlowMama, Camp 38 Spur
Cable Cluster: Ojibwe, Sleigh Trail, Wild River Trail, Short & Fat, Esker, Dirt Candy, Danky Dank
Mt. Ashwabay Cluster: All trails
To date, e-bike use is not permitted on Namakagon Cluster trails (Rock Lake, Glacier, Namakagon, Patsy Lake, Wilson Spur, Treasures' Trace).  If you have any questions, please contact CAMBA at info@cambatrails.org