HAYWARD AREA
HAYWARD AREA MEMORIAL HOSPITAL WINTER BIKE TRAIL
Length:  5.5 miles
Trailheads:  Essentia Clinic parking lot; Olson Road
Difficulty:  Easy
Description: Designed as a beginner trail, the Hayward Area Memorial Hospital Trail is considered a "gateway" trail, an entry-level trail to introduce riders to mountain biking.  It consists of a series of one way loops groomed 4 feet wide connected by several sections of wider two way trail.  Expect sweeping curves along gentle hills and numerous ski trail crossings.  Please yield to skiers at intersections and do not ride on the ski trails except for the short section of shared trail over the Smith Creek bridge.  Access is either at the northwest corner of the Essentia Clinic parking lot one mile west of Hayward on Hwy 77, or on Olson Rd near the Trussworks factory.
HATCHERY CREEK WINTER BIKE TRAIL
Length:  9 miles
Trailheads:  Hatchery Creek; Mosquito Brook Road
Difficulty:  Easy, progressing to moderate. 
Description:  This winter trail uses the same route as the summer mountain bike singletrack.  
The trail design provides an easier level of riding for approximately two miles from either trail head, and then progresses to a moderate riding level.  
SEELEY AREA
SEELEY OVERVIEW WINTER BIKE TRAILS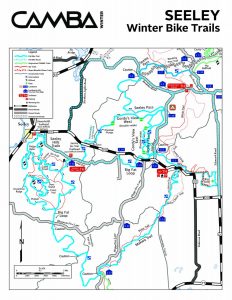 SEELEY PASS
Length:  7 miles each way
Trailhead:  Hwy OO
Difficulty:  More difficult
Description:  Seeley Pass is a two-way singletrack trail from the OO Trailhead to the S10 waypoint on Fire Tower Road. It is moderately technical, with a significant amount of climbing.  It crosses several fire roads, so there are opportunities to bail out if you decide you've had enough!
BIG FAT LOOP
Length:  14 miles
Trailheads:  Hwy OO and Old OO
Difficulty:  Moderate
Description:  The Big Fat Loop ("BFL") is a "winter-only" trail using logging roads and three short sections of rough cut to link Makwa and Seeley Pass to the Seeley Hills Trails. The loop is about 14 miles long.  It has some moderately technical sections on the singletrack portions, and some moderate climbing.  Please be careful on the short Phipps Fire Lane section, where snowmobiles can be operating at fairly high speeds.
GORDY'S VIEW (WEST AND EAST)
Length:  4.5 miles (3 miles West, 1.5 miles East); 6.5 mile loop when combined with Big Fat Loop on south side of City 00
Trailheads:  Hwy OO and Old OO at Seeley Hills
Difficulty:  Mostly easy with some moderate
New for the 2021-22 winter biking season!  Gordy's View was designed as an alternative to single-track — a more relaxing ride on a wider trail that still provides a near-wilderness experience.  This six-foot wide winter bike trail offers mostly easier riding with a few challenging hills including the Penman Plunge, with some pretty spectacular views.  The new trail is a welcomed addition to CAMBA's Seeley Winter Bike Trails. 
Gordy's View was named after Gary "Gordy" Penman who had a vision to connect multiple trail networks from Downtown Seeley and the Sawmill Saloon to Uhrenholdt Forest and Seeley Hills Trails up to the Birkie Ski Trail.  The original vision was partially achieved.  With the popularity of winter biking, CAMBA built on that vision by creating a trail to connect the Seeley Hills Trails and Big Fat Loop on a northerly route to Janet Road and Seeley Pass.  Today, Gordy's View uses a long section of Gary's original trail and completes this route. 
The trail is split into Gordy's View West and Gordy's View East.  Gordy's View West connects Old OO Rd near the Seeley Hills Trailhead to Seeley Pass and Janet Rd at S30.  The section between Old OO Rd and County OO is intermediate level with a couple of good climbs.  North of County OO is one renowned hill, Penman Plunge — a memorable climb when traveling north, an exhilarating downhill when traveling south.
Gordy's View East offers a singletrack bypass between Janet Rd near the Seeley Pass / Big Fat Loop intersection (near S2 on Janet Rd) northward to Gordy's View West.  Near the south end of the trail there is a half mile section of intermediate trail that includes a couple of relatively challenging climbs.
BIG EASY WINTER BIKE TRAIL
Length:  2.5 miles
Trailhead:  Hwy OO
Difficulty:  Easy
Description:  The Big Easy is a beginner loop at the OO Trailhead.  It is wide with virtually no hills.  The trail begins by the large kiosk on the east side of the Samual C. Johnson Family Center.  It follows part of the Easy Strider Ski Trail and connects to Telemark Road.
SEELEY HILLS WINTER BIKE TRAIL
Length:  10 miles
Trail heads:  Uhrenholdt Forest and Old OO
Difficulty:  Most difficult from Uhrenholdt access; Moderate to More Difficult from Old OO access
Description:  Seeley Hills is the most technical groomed trail, with lots of hills and some off camber sections. The trail is almost 10 miles long from the Urhenholdt access.  It is 7 miles long from the Old OO access, skipping the Urhenholdt section.  Please yield to skiers at intersections, and do not ride the ski trails except where necessary to follow the bike trail.
CABLE AREA
CABLE TOWN TRAIL
Length:  2 miles
Trailhead:  Cable Community Center
Difficulty:  Easy
Description:  The Cable Town Trails are a group of short, interconnected wooded loops separated by an open field.  The main west loop is easy rolling.  The east loops go in and out of a small ravine.  The trail gets quite a bit of traffic, with snowshoe trails interspersed with the bike trails.
BACKSIDE WESTSIDE ESKER WINTER BIKE TRAIL
Length:  3 miles; 6 miles round trip
Trailhead:  Birkie Start on McNaught Rd
Difficulty:  Moderate but with some short steep hills
Description:  Backside connects the Birkie Start to Timber Trail, with several sections of shared use ski trail.  Be sure to stay on the "bike lane" part of the trail in the shared used section.
BAYFIELD AREA
MT. ASHWABAY WINTER BIKE TRAILS
Length:  7 miles
Trailhead:  Ski Hill Road, just south of Bayfield
Difficulty:  Moderate
Description:  Winter biking at Mt. AshWaBay is a collaboration between North Coast Cycling Association and the Ashwabay Outdoor Educational Foundation.  The groomed 28 inch wide trail is 7 miles in length. The trail contains a gentle intermediate out and back section which accesses a more challenging singletrack loop.  A daily trail fee of $10.00 is required for nonpass holders.  Payments are made in the fee box or chalet.