The -39°F cold snap is behind us, and with the temperatures peaking at 39°F ABOVE zero, it feels downright balmy. But CAMBA's groomed winter trails remain in tip-top condition, so bring your fat bike to CAMBA Country before the spring thaw!
We can't predict when spring will actually arrive in the Northwoods, but you know it is close when registration opens for CAMBA's popular Women's Weekend Mountain Bike Clinics. In addition to the Women's north clinic at Ashwabay and south clinic in the Hayward/Cable area, this year we are excited to add a new Men's Weekend Mountain Bike Clinic!
Registration for these clinics is very limited and they typically fill up fast, so register today or soon. People are so tired of being cooped up riding indoor trainers and bored with doing virtual events, that I predict most of these events will sell out even faster than usual this year.
In fact, people started registering for our clinics as soon as we created the event pages on Facebook. A handful of guys have even already registered for our brand new men's mountain bike clinic. I am sensing a lot of pent-up demand to take part in real, in-person, but safe events. The Center for Disease Control says this about outdoor activities:
If you want to spend time with people who don't live with you, outdoors is the safer choice! You are less likely to be exposed to COVID-19 during outdoor activities, even without the use of masks, when you

Stay at least 6 feet apart from people who don't live with you
Limit your time around others
Bring a mask with you to put on when you encounter people who may get closer than 6 feet
Follow local mask mandates
You can rest assured that we at CAMBA made health and safety a top priority when we planned these clinics. This means some of the usual indoor stuff had to go, but everyone will still learn a lot, become better riders, and have lots of fun.
Please register soon. If you have any questions about the itinerary or pandemic protocols, please email Laurie Woodbury.
Friday, May 14th – Sunday, May 16th
Certified coaches will be teaching beginner, intermediate, and advanced riders of all ages who want to improve their skills on the beautiful and extensive Ashwabay trails overlooking the Chequamegon Bay and Apostle Islands.
Friday, June 11 – Sunday, June 13
Beginner, intermediate and advanced mountain bikers are invited to a weekend of fun on the beautiful CAMBA trails near Seeley, Wisconsin. Learn mountain biking skills in a friendly, safe and supportive environment with certified coaches.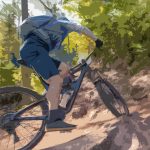 Friday, July 16 – Sunday, July 18 
Beginner, intermediate and advanced mountain bikers are invited to a weekend of fun on the beautiful CAMBA trails near Seeley, Wisconsin. Learn mountain biking skills in a friendly, safe and supportive environment with certified coaches